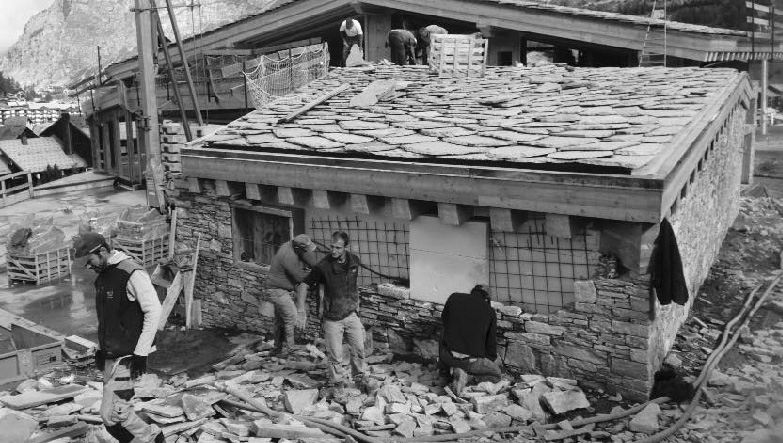 OUR
history
◆
After many years of thought and effort, the Frison family, Carole & Sébastien, and their brother-in-law, Pierre-Yves Casanova, a talented Chef, are now ready to present the exciting spot that is "L'Étincelle". Helped by their many years of experience in the restaurant trade, they have collected all their expertise, so you can benefit from a unique mountain atmosphere, all at the foot of the Val d'Isère ski runs.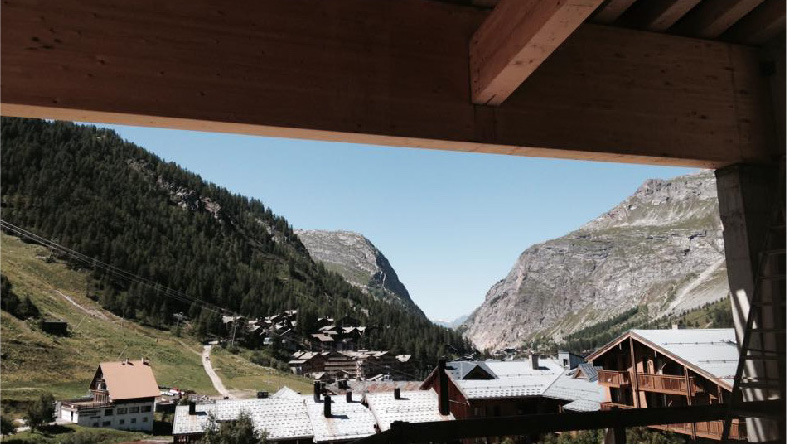 OUR
atmospheres
◆
Skilfully crafted by the site's decorator, Laure Bauer, the atmosphere at "L'Étincelle" is the perfect mix of mountain lifestyle and the traditional yurt theme. To create the height of cosiness, the fireplace, stonework, old wood, furs and sheepskins are all brought to life by the bright colour scheme, materials and symbols of the yurt theme. The traditional wreath highlights the woodwork; the cloth suspended above the lounge area sets the tone for each piece of cloth used. In the tradition of the earlier restaurant, "Les Clochetons", run by René Frison, the fireplace forms the heart of the "L'Étincelle" concept. As the chalet's centrepiece, it creates a cosy atmosphere and sets a stage for the menu.
THE
Restaurant
◆
At "L'Étincelle", gourmet expectations are aroused upon going through the door: a generous pastry buffet appearing before our eyes. Ever since the kitchen was opened, at the instigation of family member, Pierre-Yves Casanova, the fireplace has been used for the most delicious cookery. Choice items turn brown in the hearth, releasing an authentic aroma.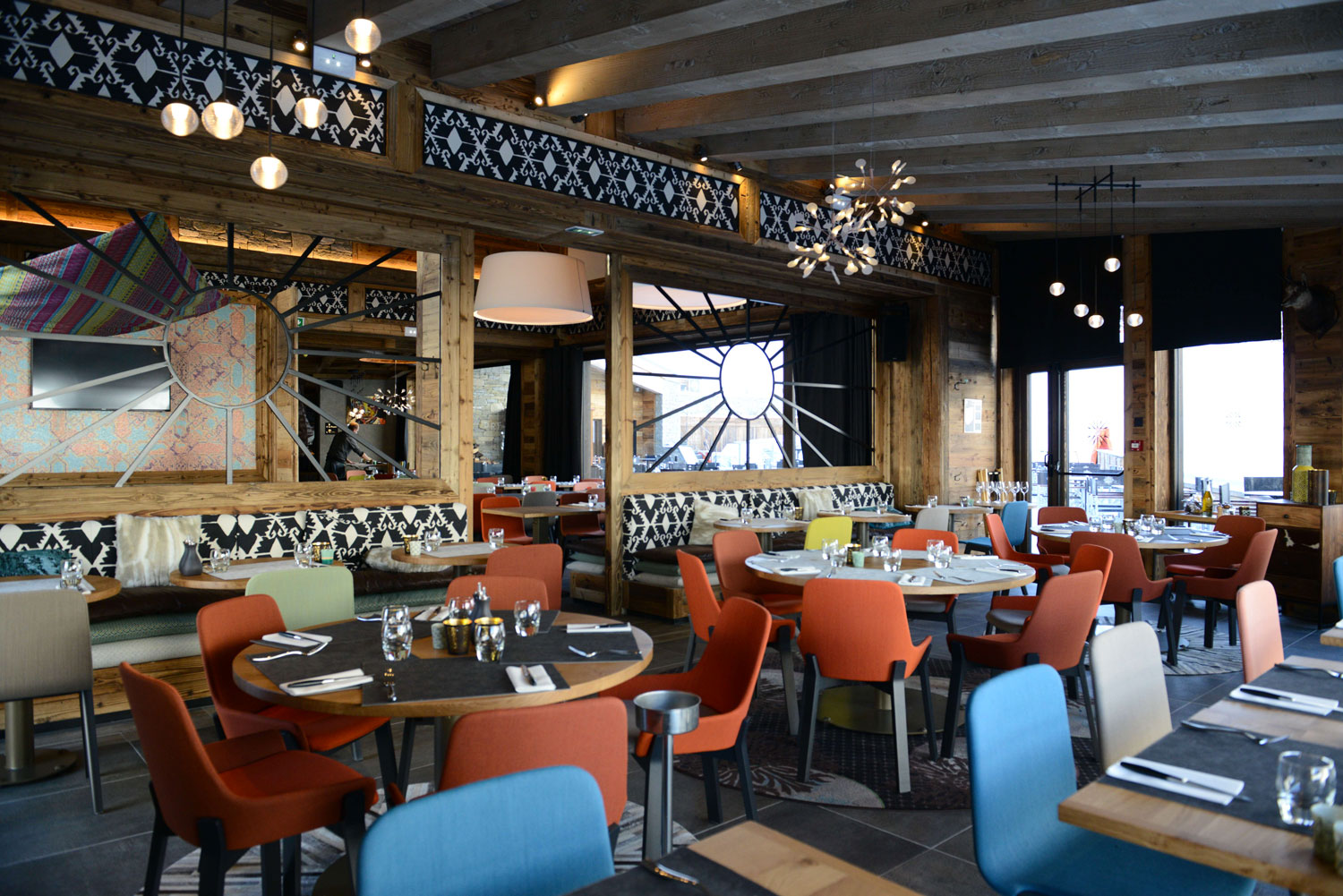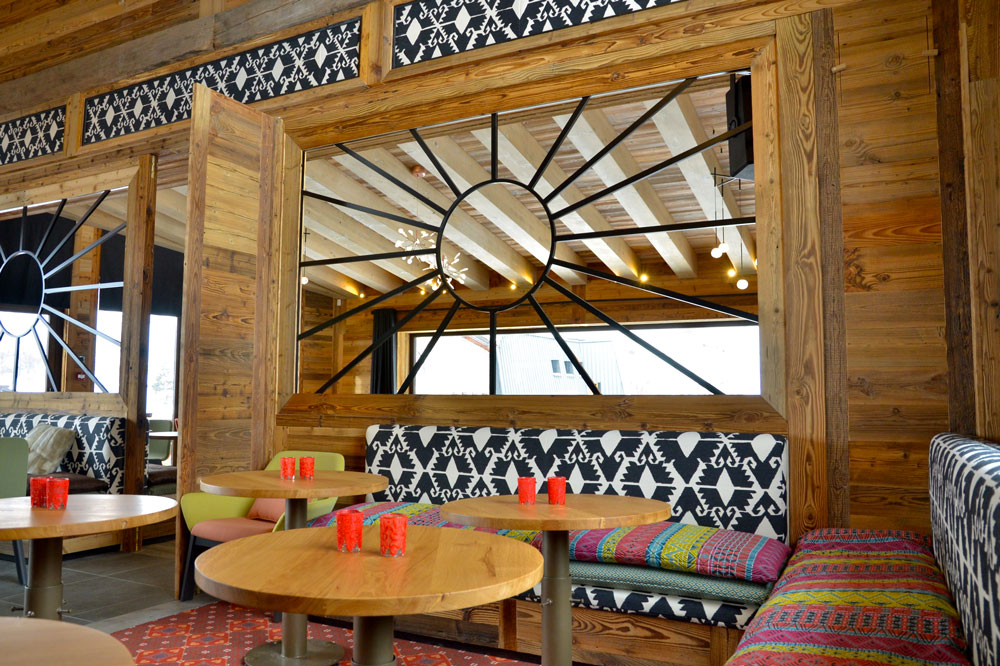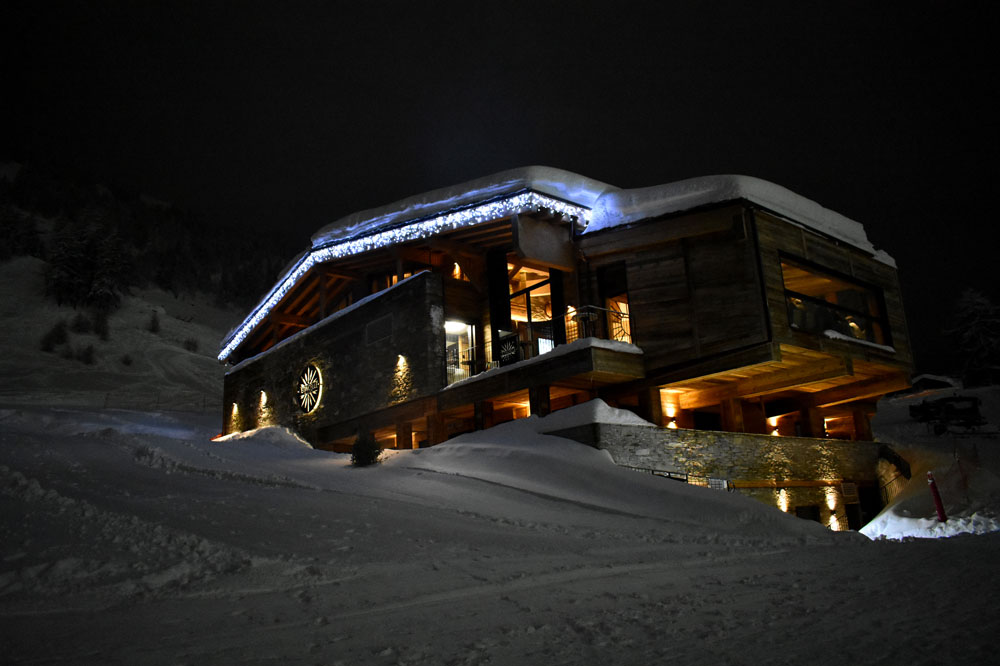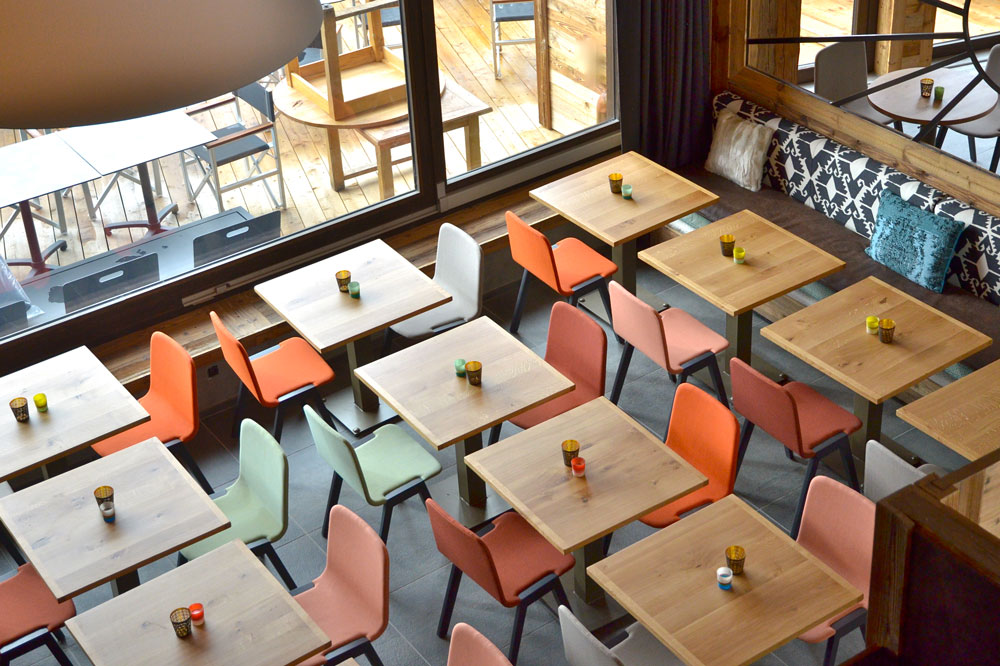 t

he
Bar/Snack
◆
"L'Étincelle" is a landmark for everyone. Hurried skiers enjoy the space to grab a quick bite, where sustenance is available between downhill runs. On the menu: savoury or sweet pancakes, waffles, sandwiches, soups, pizza, etc. made in-house and at any time of day. The nearby bar provides warmth with hot drinks and Savoyard beer.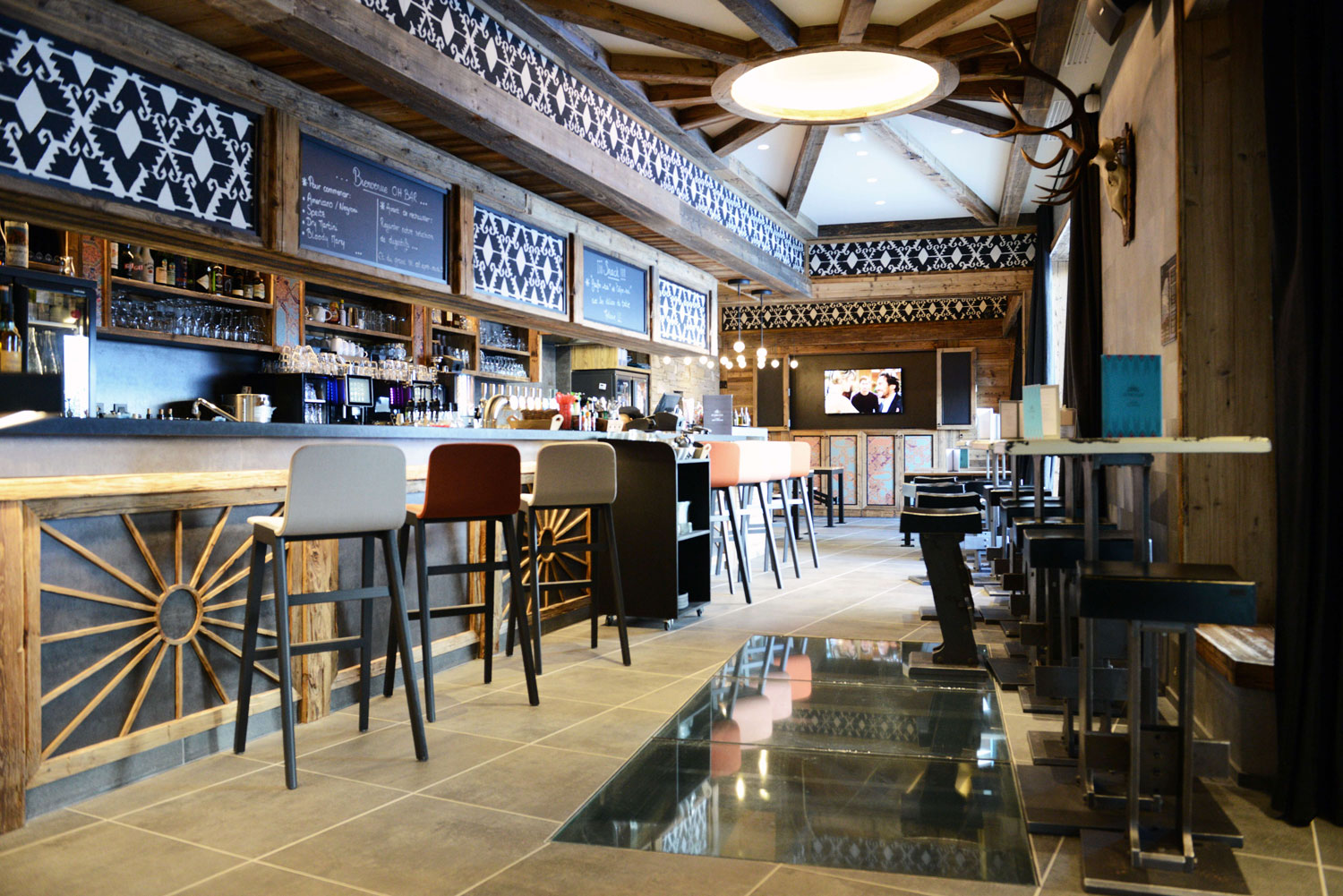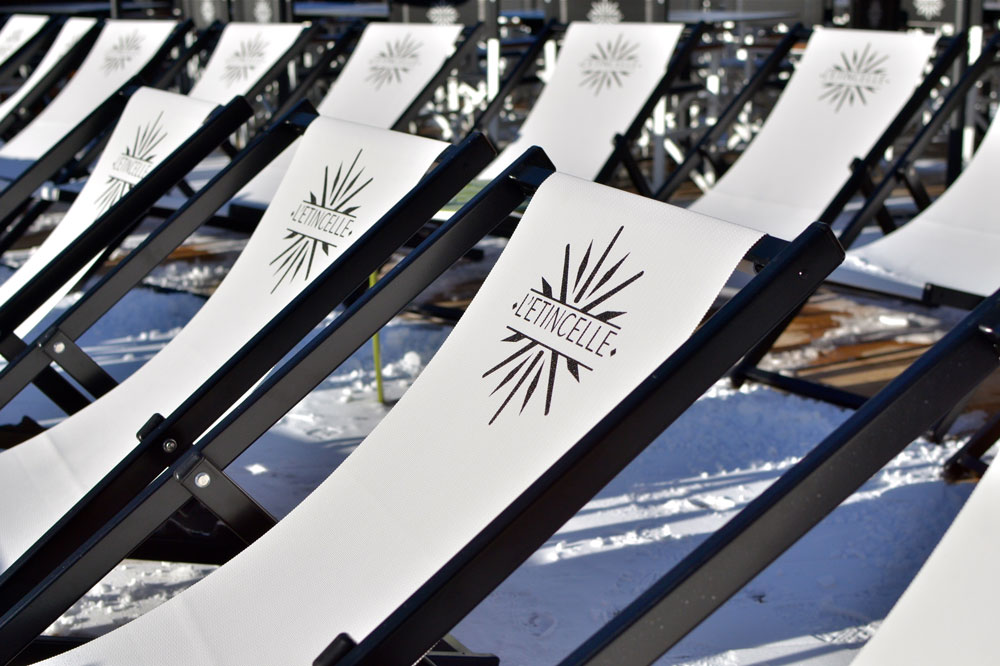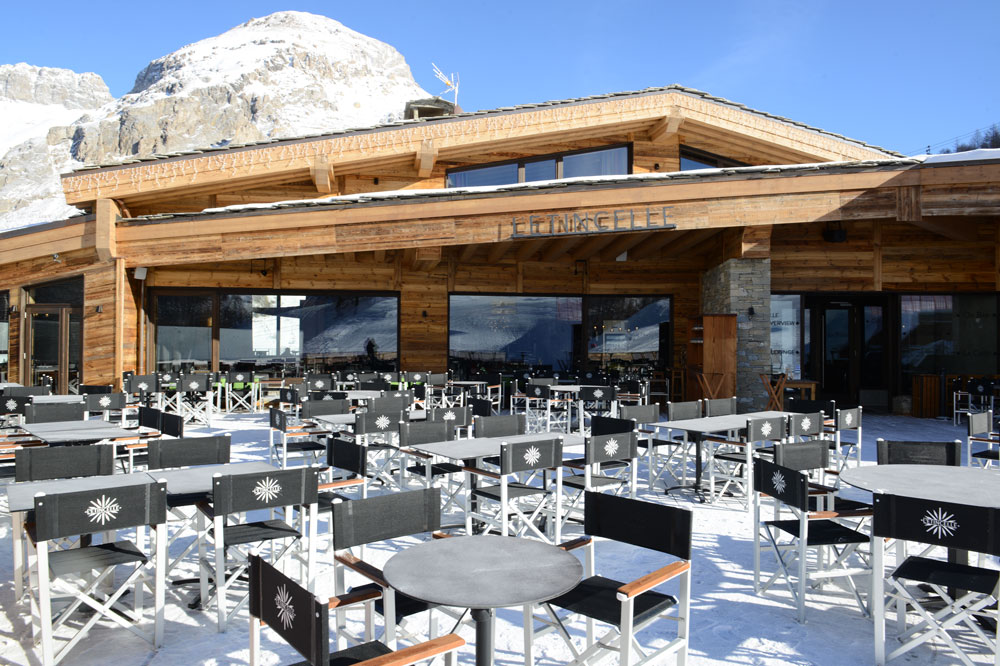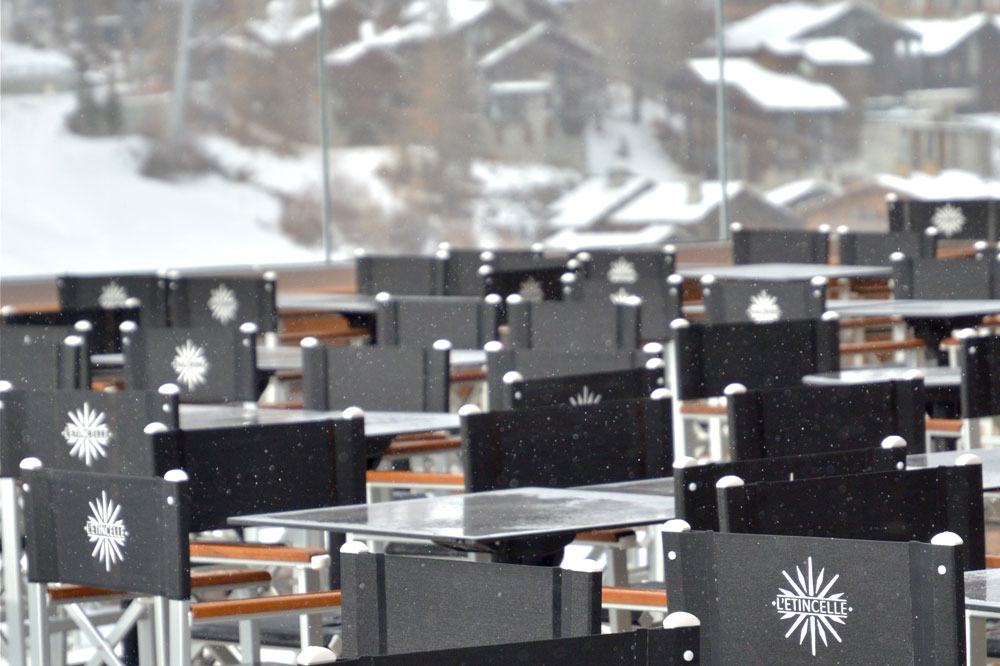 The
Terrasse
◆
Bathed in light, the terrace at "L'Étincelle" is a winter sunspot. It runs in front of the restaurant, fully south-facing and accessible from the two mountainsides of Solaise and Bellevarde. 250 covers and around a hundred sun loungers to benefit from the reinvigorating sunrays. The unobstructed view, woods covering the hillside and well-thought-out sound system all contribute in creating a well-received "mountain lounge" atmosphere. The latest arrival, Cabin no. 2 of the former Solaise cable car terminal, extends a welcome break from the ski runs.
As a passion shared by the whole Frison family, wine is at the forefront in a unique location.
OUR YOUNG AND ULTRA-DYNAMIC FAMILY TEAM,
EXTENDS A HEARTY WELCOME TO YOU AT
THIS UNIQUE SPOT IN THE VAL D'ISÈRE.